Neighborhoods are the heart and soul of our City. Charleston's neighborhoods have strong identities and unique characteristics that are recognized not just by their residents, but by the community at large. From the East End's eclectic, funky, urban vibe to the more sophisticated and fashionable feel of the Bridge Road Shops, it is these dynamic and diverse environments that makes Charleston a desirable place to live, work, and invest.
Our work in neighborhood planning includes initiatives that impact both mixed use and residential neighborhoods. We work with many partners and citizen planners to ensure that affordable housing and greenspace are available and accessible to residents, and to prevent the negative effect that vacant properties and dilapidated structures can have on communities.  Imagine Charleston, our city's comprehensive plan, identifies Charleston's neighborhoods as indicated here: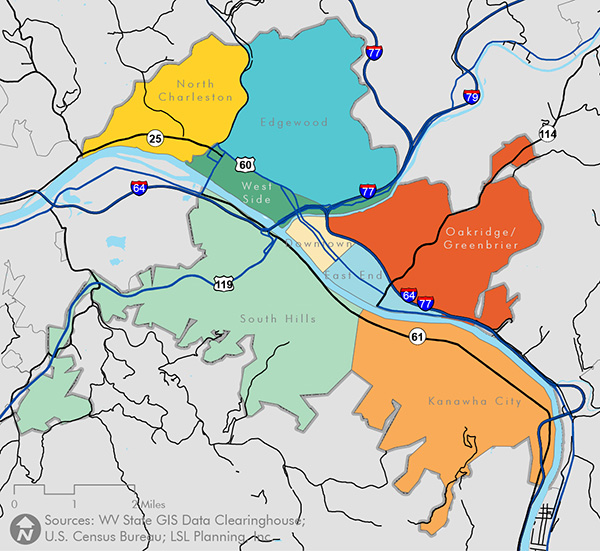 Details included in Imagine Charleston on each of these neighborhoods are linked in the menu to the right.
Neighborhoods like the West Side's historic Elk City do not come about by accident; maintaining vibrant, sustainable neighborhoods requires conscious, proactive effort by non-profit organizations, community leaders, government, private sector partners, institutions, and the public. Our planners work with many groups and organizations toward a Charleston that builds upon existing neighborhood strengths and enhances them for future generations. Those include:
Bridge Road Neighborhood Association
Charleston Urban Renewal Authority
East End Community Association
Kanawha City Community Association