As we approach the 2019 benefit year, the health and well-being of our employees are a priority, and we continue to strive to offer a competitive and comprehensive benefits package despite the challenging market and recent trends in health care.  Since the 2008 benefit year, the City's healthcare costs have increased by $8.9 million or 98%, or an average of 10.61% per year.  Despite this increase, there have been no increases in employee premiums, annual deductibles or out-of-pocket maximums. 
Once again, employee healthcare premiums for the 2019 benefits year will remain unchanged.  There will be two plan design changes for the 2019 benefit year, effective January 1, 2019. The details of each change is described in the 2019 plan changes section on the reverse side.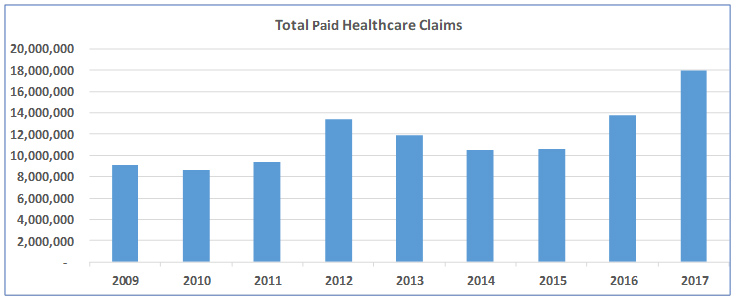 OPEN ENROLLMENT
Open enrollment for the City of Charleston health, dental/vision and flexible spending account plans for the 2019 benefit year will take place November 5, 2018 through December 5, 2018.  Only employees who desire to make changes to their current coverage AND employees who are enrolled in the flexible spending account plan are required to participate. 
If you do not wish to make any changes to your medical and/or dental/vision plans or re-enroll in the flexible spending account plan, you are not required to participate in open enrollment.  If you wish to make a change, you are encouraged to access the enrollment forms on the City of Charleston website: https://www.charlestonwv.gov/government/city-departments/human-resources/open-enrollment
Enrollment forms will also be available in Human Resources in Suite 304 at City Hall.
**In order to ensure timely enrollment and distribution of identification cards, enrollment forms MUST be returned to Human Resources no later than DECEMBER 5, 2018. ** 
2019 PLAN CHANGES
Medical Pre-certification:
Precertification requirements will include outpatient services such as outpatient surgical procedures, high cost diagnostic services and potential experimental treatments.  A list of procedures requiring pre-certification is attached hereto.  Pre-certification is completed by the ordering physician or facility in which the procedure will take place. It is a common practice in the health care industry and a process in which the majority of medical providers routinely complete.
Beginning January 1, 2019, failure to pre-certify any of the procedures listed in the attachment will result in a $500 penalty being accessed to the member for the claim in question.  This penalty will not apply toward the annual out-of-pocket maximum.  It is the patient's responsibility to ensure pre-certification has been obtained prior to a scheduled procedure or diagnostic service. 
Enhanced Dental/Vision:
The current Enhanced Dental/Vision plan will be expanded to offer enhanced vision benefits as listed in the table below.  The monthly premium for the Enhanced Dental/Vision plan will remain unchanged.  The Standard Dental/Vision benefits will remain the same.
Services and Supply                                                                        Maximum Benefit
Examination                                                                                       $60.00
Lenses & Frames:                                                                              
     Single Vision                                                                                 $55.00
     Bifocal                                                                                             $65.00
     Trifocal                                                                                           $80.00
     Lenticular                                                                                       $95.00
     Frames                                                                                           $50.00
     Contacts (in lieu of glasses)                                                    $80.00
(Please Note: Services are limited to once every 24-months)
FLEXIBLE SPENDING ACCOUNT (C-LECT)
The Flexible Spending Account (FSA or C-LECT) allows employees to pay for eligible out-of-pocket health care expenses with pre-tax dollars.  The maximum annual contribution for 2019 is $2,700.  If you participated in the City's FSA plan 2018, you are eligible to carry over up to $500 that was not spent in 2018.  Once again, the FSA plan will be available through Benny Cards.
 If you are currently enrolled in the FSA plan and desire to participate again in 2019, you must re-enroll by completing the 2019 FSA Enrollment Form and returning to Human Resources no later than December 5, 2018.  Also, current FSA participants who will participate again in 2019 should not discard their Benny Card.  Your 2019 FSA contribution will be automatically loaded to your card. 
HEALTH RISK ASSESSMENTS (HRA)
Managing known health risk factors is one of the best methods to impact your health and control current and future claim costs and out of pocket expenses.  While all employees, retirees and covered spouses are strongly encouraged to get an HRA, any employee and covered spouse who desires to participate in the City's discounted healthcare plan must complete an HRA and mandatory follow-up by November 30, 2018. Retirees and covered spouses are not required to complete an HRA.  You may schedule an appointment with the nurse to complete your HRA by visiting www.CareHere.com or by calling 877-423-1330.
We thank you for your service and contributions, and are committed to providing you with the resources and information you need to understand your benefits.  If you have additional questions regarding open enrollment or the City's benefit package, please contact April Thompson, Benefits Coordinator at april.thompson@cityofcharleston.org or Maria Church, Benefits Manager at maria.church@cityofcharleston.org or by phone at (304)348-8015.