The Planning Department staff includes two Zoning Administrators whose responsibility it is to address zoning violations throughout the City. Some violations are brought to their attention by concerned citizens, while others are identified in the field. Please note that the identity of the citizen reporting a violation remains confidential.
To report a violation, contact the zoning administrator assigned to your neighborhood as indicated on the map below. For Zone A, contact Khrista Messinger at 304-348-8105 x362. For Zone B, contact Katrina Eldridge at 304-348-8105 x367.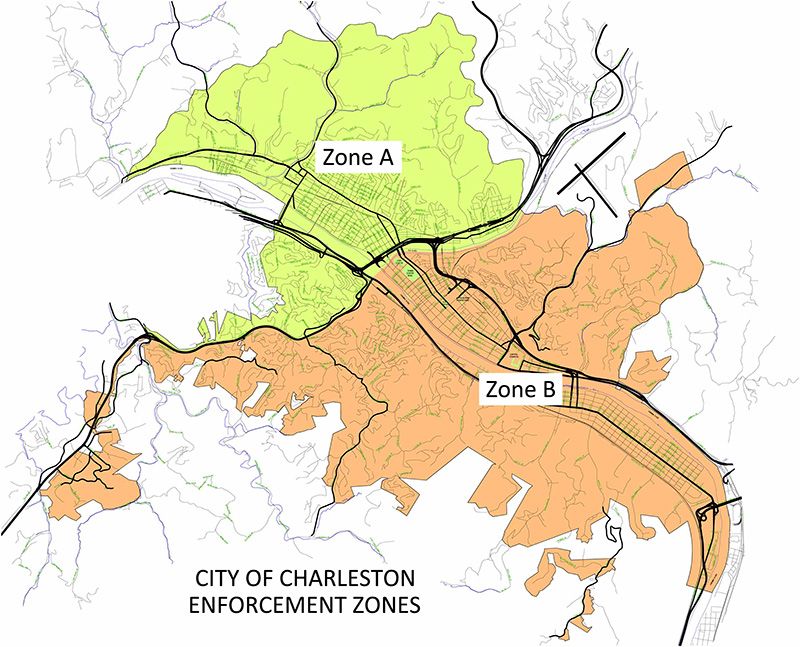 Once a violation is identified, our Zoning Administrators work with members of the community to resolve zoning violations outside of the court system. Many courtesy telephone calls are made and letters mailed each year to property owners who may be unaware of a violation or of a way to resolve it. When these attempts at communication go unanswered or an offender remains uncooperative, notices of violation are sent to the property owner and, when necessary, citations and fines are issued.
Many violations occur simply because the owner or occupant of the property is unaware of the policies contained in the Zoning Ordinance. The violations that occur most often include the following:
Open storage of inoperable or recreational vehicles
The zoning ordinance prohibits the open storage of inoperable vehicles and other machinery. If you own a car that can't be driven due to mechanics or lack of current registration and inspection stickers, it can't be parked in your driveway either. Inoperable vehicles, appliances, and other machinery must be stored in your garage or storage building where they are not visible to the public. Recreational vehicles can be visible, but they must be parked behind the front building line of your home.
Vehicles parked on unpaved surfaces
Driveways and parking areas must be surfaced with asphalt, concrete, masonry or other solid paving materials with sufficient strength to support the vehicles to be driven or parked on them. Gravel is permitted for single family dwellings and duplex dwellings, provided that certain conditions are met.
Fences
The zoning ordinance regulates the placement and height of fences. A maximum height of 4 ft is permitted in the front yard and 6.5 ft in the rear and side yards.
These and other common violations are described in our Up to Code brochure, available here. We encourage our partner organizations and citizen planners throughout the City to share this resource in their neighborhoods.