Street lights provide an important element of safety and security for City residents and motorists. It's important that they are always working and repaired promptly when one burns out.
If you see a streetlight that needs repaired in front of your home or business, the first thing you should do is determine who owns the light – Appalachian Power, the City of Charleston or the WV Division of Highway (WV DOH).
Street lights maintained by Appalachian Power are typically on a wooden pole and have a horizontal metal or plastic tag on the pole with three numbers, a letter, and three numbers written on it. (see photo below). Street lights maintained by the City of Charleston do not typically have tags on the poles. Street lights maintained by the WV DOH have a horizontal tag with "DOH" and the pole number written on it.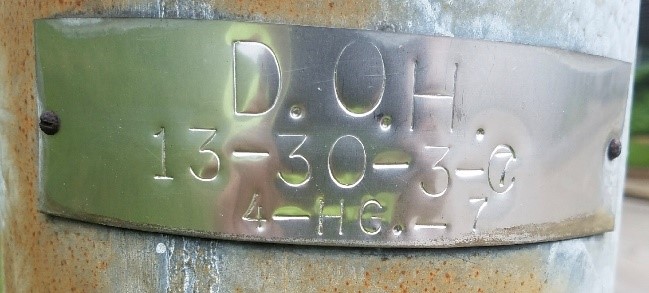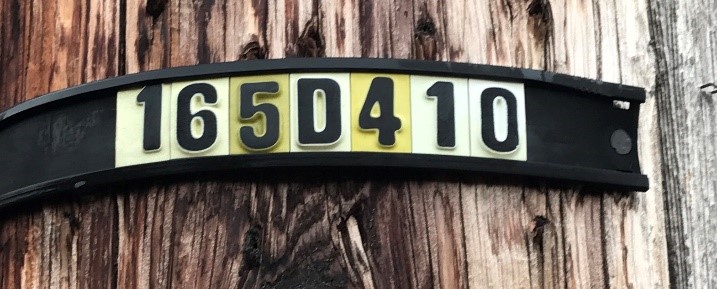 If an Appalachian Power street light needs to be repaired, you will need the following information before contacting the company:
The nearest street address to the light

The numbers/letter combination listed on the Appalachian Power tag on the pole

The problem with the light (flickering, burned out, missing lens, etc.)
To report an inoperable Appalachian Power street light, call the 24-hour Appalachian Power Consumer Solutions Center hotline at 800-982-4237 or visit the Appalachian Power website at www.appalachianpower.com/outages/report/streetlightproblem.aspx.
To report an inoperable WV DOH street light, call (304) 558-3063
If a city-owned light needs to be repaired, contact the City Traffic Operations Manager at (304) 348-0739 or by email at tp&t@cityofcharleston.org.